sweet potato and apple dog treats, dog treats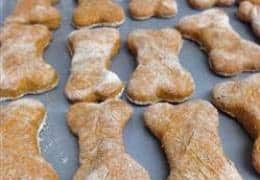 When the lovely husband leaves for an extended time away from home it is undeniable that my heart hurts. The house is a little quieter, feels a bit empty. I bump around in the extra space for a few days, adjusting to being alone again, finding the rhythm to cooking for one and sleeping in the middle of the bed (he would tell you I do that regardless!). However all of this has nothing on the heart ache of our little pug, Tom. She is a sensitive soul, who makes me believe that dogs.. well at the very least pugs… can in fact cry.
JUST LOOK AT THOSE EYES.
sweet potato and apple dog treats, dog treats and this wasn't even day one of him leaving. She's pretty adorable and certainly knows how to work her puppy eyes for more treats.
Our other dog, Coco, well she's a little less concerned and probably spends these first few days judging Tom and I for being sad. This face sums it up nicely…
For every recipe and story you find on this blog, these two are in the kitchen with me dancing around my feet and waiting, not so patiently, for scraps to fall to the floor. My eager tasters are more often than not disappointed as I shoo them out of the kitchen.
Seeing that they are always with me, putting up with my bad taste in television and unwillingness to go for walks in the depths of the cold winter, I thought it was about time that I directed a little food love their way with homemade dog treats.
Homemade dog treats are incredibly easy to make. And cheap!!! My little darlings eat a fairly healthy diet and I am completely guilty of buying their treats at speciality dog shops, which means treats cost a pretty penny. I wouldn't buy an $8 box of crackers for myself, but for Coco and Tom I don't think twice about it. Which is silly I know, but before you judge me, please refer to the faces above…
OKAY reality check: I really need to skip the pet shop, start baking treats myself. This brings me to my new goal, which is each Sunday I'm baking for the fur children. One batch of homemade dog treats each week should keep them happy and me out of the pet shop. Not to mention with the lovely husband gone I do not need to be baking for myself!!
Let's talk about these sweet potatoes and apple homemade dog treats for a minute. They are soft, chewy treats; filled with healthy ingredients to keep your dog happy and ready for that long walk now it is Spring. Sweet potatoes are a serious superfood for dogs, they are a great source of antioxidants that aid in healing, cancer prevention, and fighting the effects of aging plus a good source of vitamins A, C, B6 and copper, iron, and fiber. Apples also provide vitamins A and C and the oats are a source of soluble fiber.
The use of oats also means they are gluten-free and do not have a crunchy texture, which is ideal for senior dogs like Coco.
I hope your dog enjoys these homemade dog treats as much as my two do!! Check out my Instagram and Facebook each Sunday for new dog treat recipes.
SWEET POTATO & APPLE DOG TREATS
Healthy, easy treats for the four legged children in your home.


Ingredients
2 cups rolled oats


2 Granny Smith apples, peeled, cored


2 sweet potatoes, peeled


1.5 tsp cinnamon


1 egg


Instructions
Preheat oven to 350F.



Blitz the oats in food processor or blender, until the oats resemble the texture of flour.



Chop sweet potatoes and boil until soft. Once cooked, strain and mash. Set aside to cool.



Place the apple in a food processor to chop, or alternatively grate the apple pieces. Should have 1 cup of grated apple.



In a large mixing bowl, mix egg, blitzed oats, mashed sweet potato, grated apple and cinnamon.



Roll dough into small balls or shape using a cookie cutter.



Bake in oven for 15-20 mins, depending on size/shape.



Allow to cool and store in an air tight container.


NOTES
These cookies are gluten free, if your dog eats gluten you can substitute the rolled oats for 2 cups of whole wheat flour.