Oh Fall. You are probably my favorite season. The changing leaves that are crisp under your feet, sweaters and boots, tea on cozy afternoons, whisky on a brisk evening and my true favorite the return of soups and stews to dinner time. Really what is not to love?! It is a magical time where you get to enjoy all the good things about chilly weather, without that nasty four letter word that I dare not name out of fear it will appear – I do live in Alberta after all!soup, dinner, italian, wedding, meatballs, pasta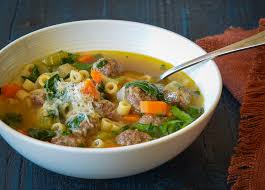 For a chilly week night soup is such a great dinner option – healthy, inexpensive, can be put together quickly, and is almost always guaranteed to taste better the next day (yay left overs!).
But if I'm being honest when I eat a vegetable soup for dinner I kind of feel cheated and slightly unsatisfied. Don't get me wrong I really enjoy them – curried cauliflower soup delicious! I just miss the meat and carbs. Which is probably why I enjoy Italian Wedding Soup so much. Tasty little meatballs, beans, bits of pasta and the goodness of vegetables for a well balanced meal.
My Italian Wedding Soup is an amalgamation of a few recipes, that is hearty and healthy. Added in lots of vegetables, used pork as a lean meat, and low sodium broth. The soup keeps well for a few days in the fridge and freezes well but for no more than 3 months.
Enjoy!
ITALIAN WEDDING SOUP
Ingredients
¾ pound ground pork

⅓ cup fresh bread crumbs

⅓ cup grated parmesan cheese

1 egg, beaten

1 garlic clove, finely minced

½ teaspoon dried oregano

2 tablespoons minced fresh parsley

1 tablespoon Worcestershiresalt & pepperSoup

1 tablespoon extra-virgin olive oil

1 small onion, finely chopped

2 medium carrots, chopped

2 celery stalks, chopped

1 small bunch of kale, thinly sliced

8 cups low-sodium chicken broth

1 15-ounce can white beans, rinsed

1 cup of orecchiette pasta

½ cup freshly grated Romano cheese
Instructions
Combine pork, breadcrumbs, cheese, egg, parsley, oregano, garlic, Worcestershire, pepper and salt in a large bowl. Refrigerate for 10 minutes to firm up. With damp hands, shape the mixture into small 1-inch meatballs (about 1 small tablespoon each).

Heat 2 teaspoons oil in a large nonstick skillet over medium heat. Add the meatballs and cook, turning occasionally, until browned on all sides,

5 to 7 minutes. Remove from the heat and set aside.To prepare soup: Heat 1 tablespoon oil in a soup pot or Dutch oven over medium heat.

Add onion, carrots and celery and cook, stirring, until the onion is translucent,

7 to 9 minutes. Stir in broth, beans, pasta and the meatballs and any juice..

Bring just to a boil, then reduce heat to maintain a simmer.

Add kale and stir occasionally, until the vegetables are tender,

20 to 25 minutes.To serve top each portion with 1 tablespoon grated cheese
Do you have any favorite fall soup recipes? Feel free to comment and share. Thanks