Last year the process of sharing my kitchen adventures with all of you helped me to step out of my comfort zone and experiment with some lesser known/used cuts of pork – the jowls and the cheeks. Really it was a mix of thinking 'this will make a great blog post' and my inability to take the easy uncomplicated route when it comes to life cooking. During that first time cooking with the cheek and jowls, or what I liked to call my weekend meat party part one and two, there were lots of moments thinking what exactly had I gotten myself into. The phrase 'bitten off more than I could chew' seemed to really sum up that weekend. However in a stroke of dumb luck both meals turned out pretty good… Don't you think??
I probably did about 10 hours of prep/cooking/cleaning that weekend and hosted two dinner parties.. no big deal right?! Aside from indulging in good food and great evenings with friends, the best outcome was discovering how amazing these two lesser known, cheaper cuts of meat can be. Growing up in a small town on the east coast of Canada you would never find these pieces of meat in the local grocery store.
So I have to say if you want to wow at your next dinner party try the slow braised pork cheeks, it is mostly prepared in advance and easily plated up to look amazing, you and your lucky guests will not be disappointed.
This past weekend I got a surprise visit from T. Thank you bad weather! I wanted to cook a special dinner for us and after a little contemplation I remembered how much T. loved these braised pork cheeks. One quick tweet to my butcher and I was in luck the pork cheeks were waiting for me. I did not anticipate the biggest challenge would be the parsnips, and after an unsuccessful trip to the farmers market and two grocery stores I gave up. Really what's the world coming to when you can't find parsnip!? SO I changed up the meal and plating a bit, this time serving the cheeks with mashed potatoes, whole roasted carrots and asparagus. I also left a sauce a bit thicker for a more rustic meal. The second making of the braised cheeks wasn't as pretty as the first but it was just as delicious!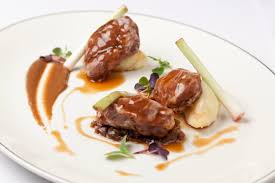 I noticed in the first posting of this recipe I didn't include photos of the steps as I went along, so here is the process… minus the messy straining of the sauce as that would for sure require a tripod or assistant!
SLOW BRAISED PORK CHEEKS
Ingredients
6 pork cheeksflour, for dustingolive oil, for frying

1 onions, peeled and cut into chunks

½ leek, cut into 1 cm cubes

1 large carrot, peeled, cubed

2 sticks celery, cubed

1 clove garlic, minced

1 tbsp tomato purée

2 cups red wine

300 ml good quality beef stock or enough to cover

½ tsp cracked black peppercorns

1 bay leaf
Instructions
Season the cheeks with salt and pepper and dust with a little flour.

Heat olive oil in a large ovenproof pan and fry the cheeks until golden-brown on both sides.

Remove from the pan and set aside.Add the onions, leek, celery, carrots and garlic and fry gently until lightly browned.

Add the tomato purée and a little of the red wine. Reduce until the tomato purée starts to caramelize and darken.

Continue adding the wine a little at a time, reducing between each addition until the sauce is rich and dark.Preheat the oven to 250F

Return the cheeks to the pan and add just enough beef stock to cover.

Add the peppercorns, and bay leaf and bring to a simmer.

Cover with a lid and cook in the oven for 4 hours. Stir every hour or so, adding a little more brown stock if it starts looking dry.

Remove the cheeks and pass the sauce through a cheese cloth into a clean pan.

Bring to the boil and reduce to a good consistency. Season with salt and pepper.Serve over parsnip mash with roasted carrots
Serve over parsnip mash with roasted carrots